After 10 months of development, my command-line video composer seq2vid has a new release! This new version 0.2 has several new features and improvements.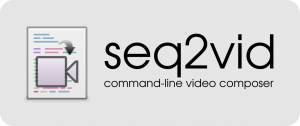 What is seq2vid?
seq2vid is a command-line video composer for GNU/Linux. It reads a sequence of texts, images, and videos defined in a text file and renders them all into a video. seq2vid can compose videos much faster than conventional (GUI-based) video editing software. It can also be deployed in batch processes and for automatically generating videos out of dynamic content. It is a free software project (GPLv3+ licensed) hosted on GitLab.
What's new in seq2vid 0.2?
New features for users
Fixes and enhancements
Better I/O management: Input/output files are now read/written where the seq file resides, not where the seq2vid scripts do. Several paths are also searched automatically to find assets mentioned in the input sequence files (commit).
Better temp file organization: All temporary files are now stored in a system-provided directory, usually inside /tmp (commit).
Default output video size: Dimensions of the output video now match those of the input video by default. A reasonable chain of priority is added for overriding the default video dimensions in the sequence and/or template file (commit).
Internal changes for developers and large deployers
There is a new page in the wiki that explains how seq2vid works.
seq2vid now defaults to ffmpeg (instead of libav-tools) for handling most video processing tasks (thank you hnrzi ?). The dependency on mencoder still exists though, since it produces higher-quality videos in some cases (commit).
A new unit test system has been added—currently containing 6 tests—for a fast and reliable development process. Tests are based on output file checksums, and the system provides an option to easily calibrate the tests for each development environment.
Known issues
In Fedora 26, fonts defined in the default template cannot be found. This is due to mismatch in the font naming conventions between Ubuntu and Fedora. This causes warning messages when building segments. Nevertheless, fonts are replaced by available system fonts as fallback.
In openSUSE Leap 42.3, the fallback mechanism for non-existing fonts does not work. This causes the text to not show up in the video output. A temporary workaround is to make sure that fonts are defined with exactly the same names as installed in the system.
Download
It's easy to use seq2vid. All you need is a GNU/Linux box with a few multimedia libraries installed. Grab the the code, uncompress it, and start playing. I will appreciate your comments, suggestions, and especially feature requests!